White House
White house was actually what?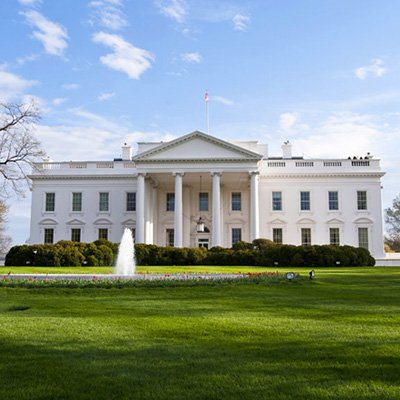 The White House is the official residence and principal workplace of the President of the United States, located at 1600 Pennsylvania Avenue NW in Washington, D.C. It has been the residence of every U.S. president since John Adams in 1800. The term White House is often used to refer to actions of the president and his advisers, as in "The White House announced that...".
The house was designed by Irish-born James Hoban and built between 1792 and 1800 of white-painted Aquia Creek sandstone in the Neoclassical style. When Thomas Jefferson moved into the house in 1801, he (with architect Benjamin Henry Latrobe) added low colonnades on each wing that concealed stables and storage. In 1814, during the War of 1812, the mansion was set ablaze by the British Army in the Burning of Washington, destroying the interior and charring much of the exterior. Reconstruction began almost immediately, and President James Monroe moved into the partially reconstructed Executive Residence in October 1817. Construction continued with the addition of the semi-circular South portico in 1824 and the North portico in 1829.
The building was originally referred to variously as the "President's Palace", "Presidential Mansion", or "President's House". The earliest evidence of the public calling it the "White House" was recorded in 1811. A myth emerged that during the rebuilding of the structure after the Burning of Washington, white paint was applied to mask the burn damage it had suffered, giving the building its namesake hue. The name "Executive Mansion" was used in official contexts until President Theodore Roosevelt established the formal name by having "White House–Washington" engraved on the stationery in 1901.The current letterhead wording and arrangement "The White House" with the word "Washington" centered beneath goes back to the administration of Franklin D. Roosevelt.
Although it was not completed until some years after the presidency of George Washington, it is also speculated that the name of the traditional residence of the President of the United States may have derived from Martha Washington's home, White House Plantation in Virginia, where the nation's first President had courted the First Lady in the mid-18th century.